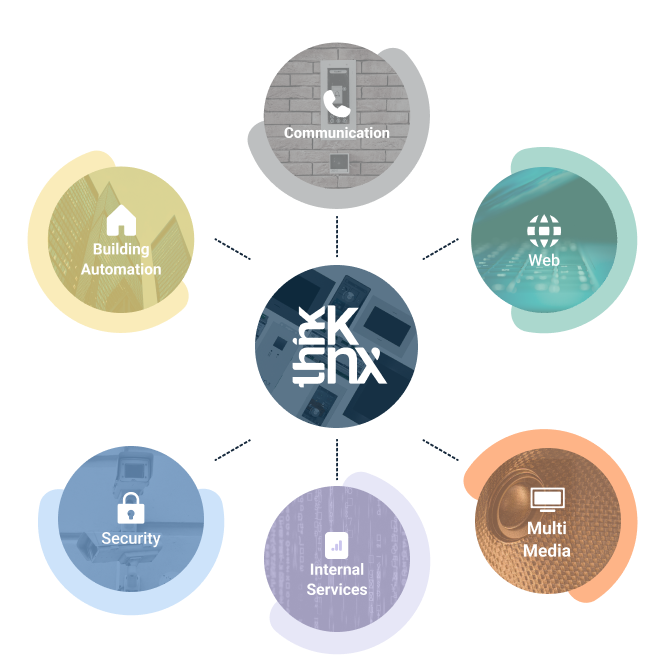 ThinKnx is a universal supervisor for building automation that lets you manage all functions of your systems in your house and workspace.
The different aspects of home automation are handled by ThinKnx through a simple and customizable interface that allows fluid interactions with systems using your Tablet, iPhone, Android or Windows Smartphone.
ThinKnx is the smart way to transform building automation in a real advantage for the owner's building granting to save on energy costs, to limit environmental impact and to improve building security and safety.
MULTIPROTOCOL


KNX, Z-Wave, Lutron, Modbus, Btcino MyHome.
ThinKnx can manage most common home automation buses in a single product.

MULTIMEDIA

Through ThinKnx, you can manage all of your media in a single place. Do you want to watch the News? Do you have a party at home? Do you have to turn up volume? Everything can be manageable just with one click.

SURVEILLANCE

Did you hear a noise outside? Check it out directly on your phone or tablet in an instant. Get live feeds of your CCTVs on your phone or tablet!

GEOLOCATION

Have you got automated systems around the world? No problem! With ThinKnx you can always monitor and manage your spaces from anywhere

SCENES

Tired of browsing through the menu to switch off all lights before going to bed? With the use of scenes, you can now record all your actions and execute them with one interaction or even schedule their executions

SECURITY

Is there someone at the door? Now with doorcoms under ThinKnx, just answer the door with your phone or tablet. You can also unlocked doors directly through your phone.

TEMPERATURE

Are you cold at home? Is your floor too cold to walk on? Turn up the heaters from your phone or tablet in an instant. You can even schedule your temperatures for the next few months.

PROGRAM
Create functions and logic using our easy-to-use Configurator

CUSTOMIZE
Arrange your kind of interface. Add your personal touch

EXPORT
Export your projects, you can even export different versions

CONNECT
Download the project on your ThinKnx server and on the devices you want to pair with.
Resistance Memorial Monument - Khorfakkan, UAE

Iconic project in Khorfakkan, UAE. Full control of the building with the Envision Touch panel.

HOTEL - Milan, Italy

Guests have access to a wall mounted screen which allows complete control over lights, curtains, blinds, heating and cooling through a simple and intuitive interface. Maintenance and consumption are monitored from the reception

Kempinski Summerland Hotel - Beirut, Lebanon

Automated Apartment Management Systems, with touch screens and remote controls, which let the users to watch over their whole house directly from centrally located LCD touch panels or even via the internet from all over the world.

COUNTRY HOUSE - Tavullia, Italy

Through light and temperature control you have life-style benefits and a better comfort. Monitor energy consumption and control security. Add a new value to the house saving on energy costs and limiting environmental impact

HOMES - Pune, India

Automated Apartment Management Systems, with touch screens and remote controls, which let the users to watch over their whole house directly from centrally located LCD touch panels or even via the internet from all over the world.

Tesoroblu Hotel - Kefaloni, Greece

Automated Apartment Management Systems, with touch screens and remote controls, which let the users to watch over their whole house directly from centrally located LCD touch panels or even via the internet from all over the world.

WINERY - Erbusco, Italy

The plant is controlled through tablets and smart-phones. Notifications and alarms are activated to improve security, maintenance and energy savings in every plant department. Controlling lights, RGB leds and multimedia systems, during the guided tours, allow you to provide a better guest experience.

LACQUER FACTORY - Pontida, Italy

Monitor security, simplify maintenance and improve energy savings through the smart building. All the departments can benefit of these improvements speeding up routine operations