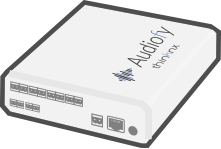 Audiofy is the simple yet powerful integrated multiroom professional audio system created by Thinknx. Only one device combines audio matrix routing, power amplifiers for each output and up to four independent network players. It is also fully confugrable via web. The system permits to spread audio contents from external analog sources or from internal players towards up to 32 rooms with superior pure sound quality.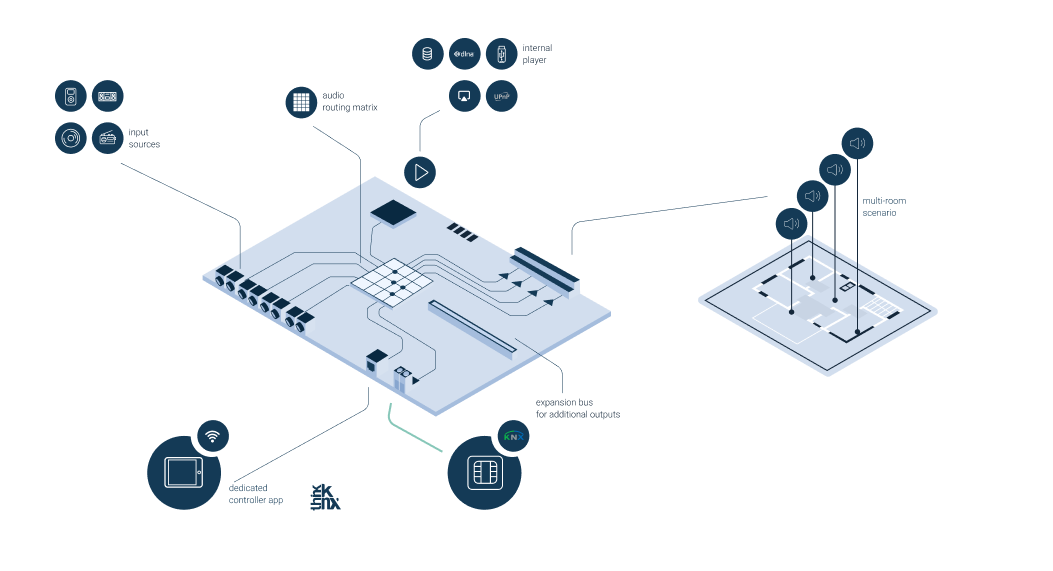 How it works
Audiofy is a scalable system which delivers music contents from internal players (up to 4) or analog stereo inputs (up to5) to stereo power amplified outputs (from 4 to 16).
Thanks to the many protocols supported, it is perfectly integrated inside automation systems. A native KNX TP port allows to send commands to the music system directly from another KNX devices and to receive feedbacks.
Through a complete set of Apps, the final user decides the routing of the audio sources and has a comlete control over his music listening experience. The internal player is directly controlled by the app, the music library provided by a NAS or USB stick can be browsed with a simple menu.
Even the music stored on smartphones or tablets can be reproduced directly using AirPlay, UPnP and the output can always be chosen through the app!
If the use wants to listen to radio or web contents, Audiofy provides the integration of Tune-In, so that the user can easily access the web contents.
The quality numbers
ANALOG INPUTS Audiofy accepts up to 5 analog, high impedance, single ended inputs with pluggable screw terminals. Selectable gain (0 to 20dB) for each single input.
An additional mono input can be routed simultaneosly to all the outputs and mixed with the source that is playing in the output. This function is very useful for public announcements or to convey high priority audio messages.
INTERNAL STREAMER Streams and plays all the most diffused digital audio format. Each player is an AirPlay endpoint and Upnp renderer. It can play from DLNA and Upnp Media server, network sharings and USB pluggable storage.
SOUND PROCESSOR Each input can be routed to 1 or more of the outputs. 3-Band equalizer, +15dB/-79dB volume control and L/R balance adjust for each output.
POWER OUTPUTS Each output can deliver up to 50W into 40hm speakers.
Outputs can be split into 2 volume independent mono outputs to sound adjacent rooms with different volumes or where spatialization is not needed (bathrooms, corridors).
Class D, high efficiency, 2x50 W continuous on 4 Ohm, fault protected, stereo outputs. THD+N = 0.1% @ 25W - SNR = 120 dB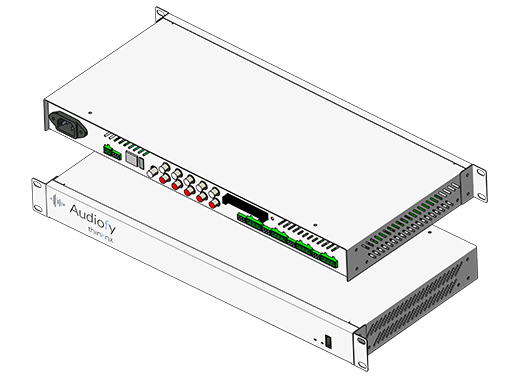 Audiofy P1
Permits to spread music coming from 5 analog inputs or from the single internal player to 4 amplified outputs (expandable to 32).

1x internal network player
5x single ended inputs
4x amplified stereo out
1x ethernet port


1x EIB/KNX TP port
1x USB port
Power 100-240 VAC 200W max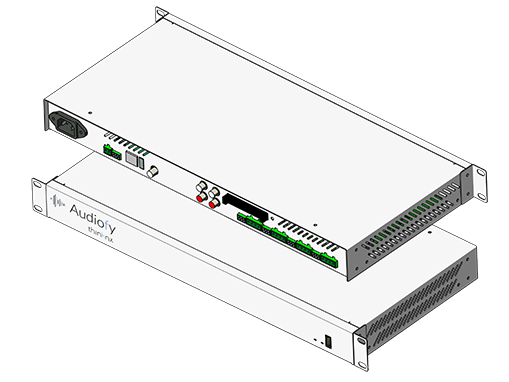 Audiofy P4
Permits to spread music coming from 2 analog inputs or from the 4 internal player to 4 amplified outputs (expandable to 32).

4x internal network player
2x single ended inputs
4x amplified stereo out
1x ethernet port


1x EIB/KNX TP port
1x USB port
Power 100-240 VAC 200W max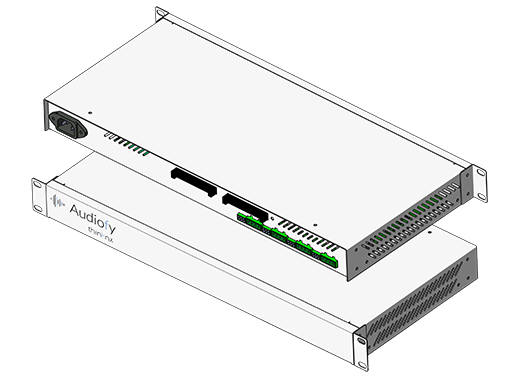 Audiofy E4
Expansion module to add 4 additional outputs to existing P1 or P4 module (max. 3 E4 for each P1/P4).

4x amplified stereo out (50W per channel on 4 Ohm speakers)
Power 100-240 VAC 200W max

Audiofy Server
It allows the Audiofy to work as a Micro server. Through its KNX bus connector, the Audiofy is able to control lights, roller shutters, HVAC systems and more. It can also elaborate complex logic operation on the data read from KNX.

Z-Wave
It allows to seamlessly control wireless devices from KNX and viceversa permitting to have a convenient turnkey solution also for restorations or where KNX is not usable.

Philips Hue
It allows to control the Philips Hue lights from KNX bus. In the ThinKnx system different rules can be created to control Hue elements (lights or groups) from KNX and to receive feedbacks from them.

MyHome BTicino
It allows the bidirectional connection of MyHome BTicino plants to KNX plants. Through easy-to-fit tables it is possible to set matching among the messages coming from the two worlds.

Sonos
It allows to control, in a bidirectional and fully configurable way, Sonos players.
More Information

Audio Video
It allows to manage audio and video devices installed in the plant. It enables also the serial gateway and Ethernet gateway features that allows to create custom commands to interface with most of the devices on the market.