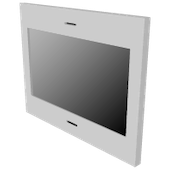 Envision Touch Server
Envision is the all-in-one Touch server, which acts as a user interface and server to other clients for the complete control of the home/building.
It is characterized by stylish high-quality materials, top-class capacitive touch screens, has direct KNX TP connection and can establish a bidirectional interaction with other devices such as Philips Hue and BTicino MyHome and Zwave.

Know more...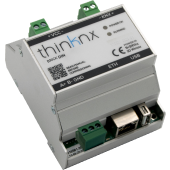 Brickbox
Brickbox offers background services to connect KNX to a number of systems that don't natively support this protocol. Although Brickbox does not offer any visualization option, it takes advantage of all the functions already integrated in Thinknx servers and permits to control multiple systems such as Sonos, Modbus, SCS (MyHome),etc, in a bidirectional and fully configurable way.
Know more...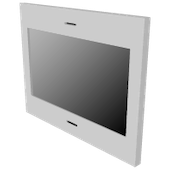 Envision Client
Envision Client is a touch screen aimed to be used with any Thinknx Server for project visualization only. It is made from the same high-quality materials used for Envision Server and is available in 7 or 10 inches. Envision Client is only equipped with an Ethernet port, a microphone and a speaker which makes it ideal for an intercom client or a fancy addition to the furnishings.
For more information, consult the Envision Touch Server.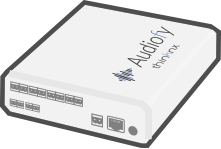 Audiofy
Audiofy is the simple yet powerful integrated multiroom professional audio system created by Thinknx. Only one device combines audio matrix routing, power amplifiers for each output and up to four independent network players. The system permits to spread audio contents from external analog sources or from internal players towards up to 16 zones with superior pure sound quality.
That's not all, any Audiofy can be upgraded to work as a Micro server, combining automation and entertainment in one device! Multiple services are available upon request once the Audiofy is upgraded to Micro such as Sonos, Zwave, Audio/Video and more.
Know more...
Creativity, Engineering and Manufacturing Made in Italy

Security
Allows to manage the interface with alarm and video surveillance systems.
Integrated alarm devices:
Arrowhead Elite SX
AVS Electronics XTream640
Bentel models: Kyo8, Kyo16, Kyo32, Kyo320
Brahms models: B4 - CMP16, CMP32, CMP64
Tecnoalarm models: TP16-256, TP8-64 Bus (protocol Tecno Out)
Elkron models: MP508TG
Elmo models: ETRx, ET8plus, NETx, Villegio, Pregio, Tacora
IESS (Genio)
Inim models: Smart Living 10100, 1050, 515
Aritech models: Advisor Master and Advanced
Rokonet models: RP128, RP128 BTE
Honeywell Galaxy Dimension models
Siemens SPC
Paradox Evo
Urmet 1067
More Information

Door Communication and PBX
Allows to make/receive VoIP calls between Thinknx clients and devices with VoIP technology, such as: VoIP telephones, IP intercoms (Mobotix, 2N, Comelit, TCS, Doorbird).
Enables also the VoIP PBX (SIP Server) function that handles VoIP calls on the server.

Automation
Allows to manage the interface with external systems that do not use the KNX protocol and enables also the Ethernet gateway.
Integrated systems:
Gateway function from and to MODBUS-RTU (serial or TCP/IP)
Devices with MODBUS RTU communication protocol (thermal power stations, special equipment, fire, electrical meters) such as FCC-PLANTEC, RDZ, Menerga
Sanyo air-conditioning
Mitsubishi air-conditioning
Bidirectional communication with LutronHomeWorks processors, control of Lutron outputs from ThinKnx and from KNX, control of KNX from Lutron keypads.

Philips Hue
It allows to control the Philips Hue lights from KNX bus. In the ThinKnx system different rules can be created to control Hue elements (lights or groups) from KNX and to receive feedbacks from them.
It is possible to simulate RGB elements or white lamps with presettable light temperature.

Z-Wave
It allows to seamlessly control wireless devices from KNX and viceversa permitting to have a convenient turnkey solution also for restorations or where KNX is not usable.

BTicino MyHome
It allows the bidirectional connection of MyHome BTicino plants to KNX plants. Through easy-to-fit tables it is possible to set matching among the messages coming from the two worlds.
The device makes possible the control of KNX devices from MyHome buttons and viceversa, allowing the creation of unique supervisions for the complete integration of the two systems.

Lutron
It allows the bidirectional connection of Lutron plants to KNX plants.
The integration allows to associate KNX groups to Lutron lights, making the devices in the Lutron plant controllable from KNX buttons or supervision.
The Brickbox makes possible also the control of KNX devices from Lutron buttons, allowing the creation of unique supervisions for the complete integration of the two systems.

Audio Video
Allows to manage audio and video devices installed in the plant. It enables also the serial gateway and Ethernet gateway features allowing the creation of custom commands in order to interface with most of the devices on the market.
Supported systems:
- Audiofy
- Sonos players
- Tutondo
- Multiroom audio/video matrix, Autopatch, Kramer, Atlona (through serial interface)
- NEC, Sanyo projectors, LG monitors (through serial interface)
- Denon, Onkyo, Cambrige Audio receivers (through serial or network interface)
More Information

Audiofy Server
Upgrades your Audiofy to a Micro/Micro Zwave server in order to use it as a server device.

Reports
Allows to generate reports that can be sent via mail in listing and graphical form.
The server can also collect data that can be consulted in real-time directly from the user interface through interactive and responsive charts. The multitude of plotting options and the possibility to include more data sets in the same chart allows to deeply analyze the behaviour of the building and to find correlations between habits of the inhabitant and results in term of energy consumption and efficiency.
More information

Web
Enables control via web browser. It is useful when there is no native software on the client.

SONOS
It allows to control the Sonos systems from Thinknx UI and to interact with the players also from KNX plants. Status like play, pause or shuffle, volume control, track descriptions and cover art are visible into the Thinknx clients and available on KNX bus.
Built-in












Security













Door Communication and VoIP






Automation










Audio Video












All trademarks are exclusive of their respective owners. These marks are mentioned only for informational purposes and on them ThinKnx does not have any rights.
| | | | | | |
| --- | --- | --- | --- | --- | --- |
| | Micro | Micro Z-Wave | Compact | Rack | Envision |
| RS232 | 0 | 0 | 1 | 1+2* | 0 |
| RS485 | 0 | 0 | 0 | 2* | 0 |
| USB Ports | 0 | 1 | 2 | 4 | 2 |
| KNX TP connection | 1 | 1 | 1 | 1 | 1 |
| Z-Wave Transceiver | | | | | |
| Unlimited Clients | | | | | |
| IR Trans | | | | | |
| Report until 20 MB | | | | | |
| Audio/Video | | | | | |
| Security | | | | | |
| DoorCom and PBX | | | | | |
| Extended Report over 20MB | | | | | |
| Automation | | | | | |
| Lutron | | | | | |
| Philips Hue | | | | | |
| BTicino MyHome | | | | | |
| Sonos | | | | | |
| Full Web Page | | | | | |
| Light Web Page | | | | | |
| Voice Control | | | | | |
| Ethernet Gateway License | | | | | |
the option is not available for the device
the option can be added to the device
the option is included in the device
* serial ports can be configured alternately as RS232 or RS485
Licenses and upgrades may change from country to country.