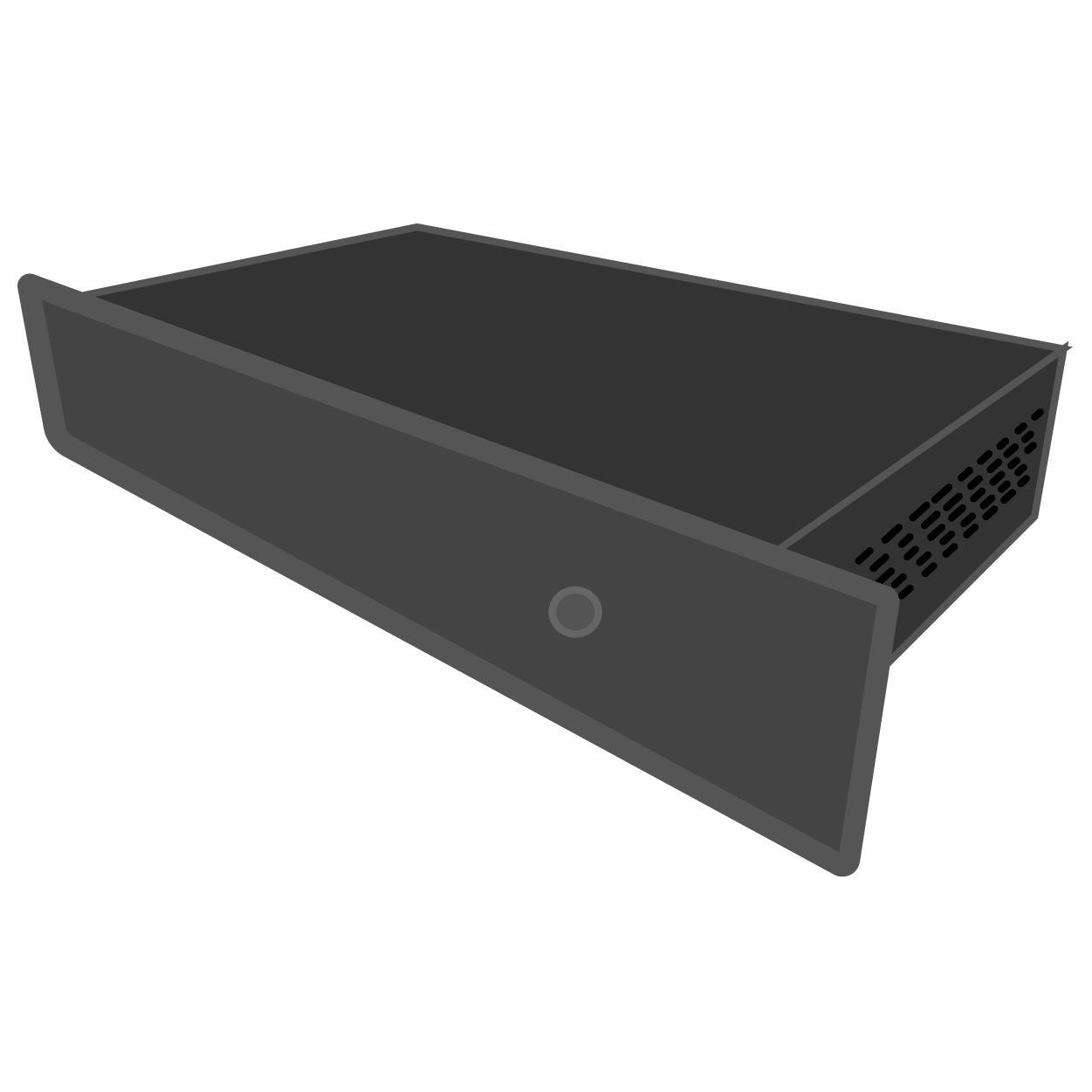 Technical Features
Fanless processing device optimized for continuous operation
Industrial mass memory
KNX net/IP interface/router
Suite Thinknx PRO
Linux Operating System
External power supply 230V AC
1x native EIB/KNX port with direct connection through clips
2x serial ports configurable for RS232 or RS485
1x serial port RS232 DB9 pins
4x USB ports
2x Ethernet ports
When many systems have to be integrated in the same building, Rack is the ideal solution for all the plants where a high number of integrations and available features coexist. With a lot of external ports to connect different systems or devices, the Rack grants the highest performance and the best automation for the smart building. It embeds all the features of the other ThinKnx server models without restrictions.

Philips Hue
It allows to control the Philips Hue light system from KNX bus. It is possible to simulate RGB elements or white lamps configuring the colour temperature. The created elements can be integrated into the scenes and controlled from KNX devices.

MyHome BTicino
It allows the bidirectional connection of MyHome BTicino plants to KNX plants. Through easy-to-fit charts it is possible to set matching among the messages coming from the two worlds.

Full web page
It enables the control through web browser. It helps when the native software of the client device is not available.

Z-Wave
The server acts as a Z-Wave controller allowing to completely control all the nodes and the perfect integration with all the ThinKnx functionalities. One single interface for a complete control.

Extended Reports
It allows to generate reports that can be sent via mail in listing and graphical form. The server can also collect data that can be consulted in real-time directly from the user interface through interactive and responsive charts.


Security
It allows to make a bidirectional control between KNX and all alarm devices integrated into the ThinKnx system. All feedbacks from sensors are available on KNX. Sending telegrams is possible in case of emergency or when an event is triggered. Activating/deactivating alarm devices is available through a 14-byte string.

Lutron
It allows the bidirectional connection of Lutron plants to KNX plants. The integration allows to associate KNX groups to Lutron lights, making the devices in the Lutron plant controllable from KNX buttons or supervision. Both Lutron HomeWorks and Lutron HomeWorks QS have been integrated into ThinKnx systems and enable a bidirectional communication from KNX, in order to easily control lights and blinds.

VIAVAI
It is the ideal solution for the control and the management of access gates, enhancing the level of security and safety. The ThinKnx-Wiegand adapter will enable the communication with Wiegand technology for the integration of biometric or RFID readers. ViaVai can be adapted to sectors where long-term expirations are required such as service and industry sectors, but also applies to the hospitality sector where credentials are usually short-term and remote management is required. Three different options are available: from 3 to 10 gates, from 11 to 50 gates and for 51 gates and above.

Direct KNX connection
Linux-based appliance with direct connection to the KNX bus (no need of separate IP-router).

Unlimited Clients
An unlimited number of clients (PCs, smartphones or tablets) can simultaneously connect to the server.

Unlimited KNX data-points
There are no limitations on the number of KNX entities that can be controlled by our servers.

Electrical Switching
Different kinds of switches are available: on/off normally open, on/off normally close, on on pressure/off on release, on on pressure, value on pressure, etc.

Dimming Regulation
Lights can be easily dimmered through a simple interface of the client app.

RGB led
RGB leds can be controlled through KNX.

Blinds Control
Rollers and blinds contain KNX groups to move, to stop and to obtain a feedback of shades, blinds, etc.
Heating & Cooling
The chronothermostat is used to interact with a KNX thermostat and allows to set weekly timers to control the temperature. The desired temperature can be hourly and daily set.

Generic Timers
Switching can be temporized using in two modes: the "Calendar" mode allows to set complex temporizations while the "Switch Schedule" mode allows to set six weekly temporizations.

Weather Forecasts
Weather forecast can be displayed into the client application.

Load Control
The load control allows to monitor the electric energy consumption following disarming thresholds and rearming intervals.

Scenes management
Scene is a sequence of programmed actions such as turning on the lights in a room. This list of action can be predetermined by the user through the scene recording function.

Logics & Maths
Logical operations (AND, OR, XOR) and mathematical functions based on values coming from KNX groups can be created using simple and intuitive interfaces.

Analogical Values
Visualize analogical values in the client interface (for example meteo data such as wind speed, outdoor temperature, etc.) and to send them to a KNX group (for example to adjust threshold values).

IP Cameras
Visualization of IP cameras with MJPEG or RTSP video flow.

SMS Gateway
Service that allows to send SMS notifications when specific conditions predefined in the ThinKnx Configurator occur (no additional hardware required).

Generic Gateway
It is possible to perform actions depending on a command or a specific value sent by the KNX bus (or other integrated systems), for example it is useful to create temperature alarms.

Push Notifications
Management of technical alarms with push notification messages (iOS), email and automatic page change in the ThinKnx client interface.

Infrared Control
Integration of IR TRANS devices to control TVs, Blurays, Apple TV, etc. directly from ThinKnx client interface (no database required).

Automation
It allows to manage the interface with external systems that do not use the KNX protocol and it also enables the serial and Ethernet gateway features that allow to create.

Report until 20MB
It allows to collect data up to 20 MB from KNX plants (both locally and on the cloud), to generate reports and to continuously store KNX telegrams (logger modality).

Sonos
It allows to control the Sonos systems from ThinKnx UI and to interact with the players also from KNX plants. Status like play, pause or shuffle, volume control, track descriptions and cover art are visible into the ThinKnx clients and available on KNX bus.
Know more

IoT
The server offers the chance to connect and control almost any device thanks to their wide set of configurable link ports. For instance, custom strings can be sent to devices through Ethernet to perform desired operations. Moreover, generic http requests can be combined with particular events, and data transfer on serial ports can activate scenes or other actions.

DoorCom and PBX
It allows ThinKnx clients to receive VoIP calls coming from devices with VoIP technology, such as VoIP telephones, IP intercoms (TCS, 2N, Mobotix).
It also enables the VoIP PBX (SIP Server) function that handles VoIP calls on the server. It allows to manage the doorcom functionality among different devices where the ThinKnx interface is installed. Integration of SIP VoIP door stations for Windows, iPad, iPhone and Android clients.

KNX NET/IP INTERFACE/ROUTER
It allows the use of the ThinKnx server both as KNX Net/IP interface, allowing KNX programming over IP, and as KNX Net/IP router, allowing KNX programming as well as connecting different parts of a KNX system over IP, much like a line coupler.

Audio Video
It allows to manage audio and video devices installed in the plant. It also enables the serial and Ethernet gateway features allowing the creation of custom commands in order to interface with most of the devices on the market.

Voice Control
It allows to send vocal commands to monitor the plant either directly through Siri (of iOS devices) or through the IFTTT service.

Vai2
Access control up to 2 gates integrated with KNX keypads, Z-wave keypads, Modbus, and Wiegand reader.