2014, 30 July
THINKNX NEWS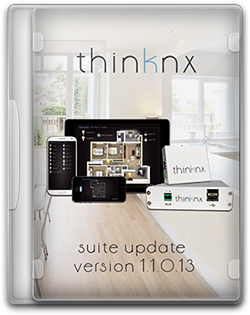 THINKNX VERSION 1.1.0.13 RELEASED
After quite a long period of work we are proud to release a new software update for the complete ThinKnx suite.
Plenty of new features have been added to the products with the aim to remain among the best supervision systems.
Here follow some of the most important changes:

Client side (iOS, Android, Win, MacOs):
Added modality-based chrono-thermostat (automatic change between Comfort, Standby, Night modalities).
Possibility to customize the temperature range in chrono-thermostat settings and to have two different ranges for summer/winter.
Storage of the chrono-thermostat curves during seasons switch-over.
Protection by means of multiple PIN codes (for functions, pages, objects).
Added inactivity timer with selectable default function and page to switch back after a period of inactivity.
Added a new extended command object to show text or graphics with advanced logics or from new KNX DPT types.
Added new features to analogue values. Unit of measure can now be embedded, font can be changed and slider step width can be set.
Added a more evident stop button on blinds and shutters.
Cameras can now be used as animated background.
Server and configurator side:
Presence simulator with random operations order and duration.
Sun related events (dawn, sunrise, noon, sunset, dusk) and sun position calculation from location.
Ethernet gateway with TCP/UDP sockets and HTTP GET/POST calls.
Modbus TCP to KNX gateway
Added support for Tecnoalarm TP8/88 and TECNOUT over Ethernet (with encryption).
Added support for Audiac M2 and R2 matrix.
Added support for Thinknx multimedia video player.
Added possibility to export/import mathematical functions and IR codes.
Added possibility to save IR remotes files into the ThinKnx project.
New mathematical functions like "regulator" that permits to recreate regulation with hysteresis (like thermostat).
Added several short-cuts to enhance productivity.
Enjoy the latest version of our Configurator!
We look forward to your helpful comments and reviews through our Forum, Ticket service or by social media.